Days Of Wonder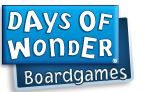 Days of Wonder® entwickelt und produziert Spiele unter dem Motto "Play different.™" ("Anders spielen"). Beginnend mit der konsequenten Veröffentlichung einer sehr begrenzten Anzahl an neuen Spielen, über die kompromisslose Qualität bei der Produktion von Brettspielen, bis zum einzigartigen firmeninternen Entwicklerteam für digitale Spiele – Days of Wonder erhöht beständig das Niveau der eigenen Produkte. Das Resultat ist eine unvergleichliche Reihe an Erfolgen, darunter Zug um Zug®, das weltweit bestverkaufte Eisenbahnspiel; Small World®, das legendäre Fantasyspiel um epische Eroberungen; und Memoir '44®, die Saga über den 2. Weltkrieg mit bisher 20 Erweiterungen.

Infos zu den Neuheiten
Small World of Warcraft ist ein eigenständiges Brettspiel in Blizzards glorreichen Computerspieluniversum Azeroth. In dieser feindseligen Welt wetteifern 2–5 Spieler um die Kontrolle über verschiedene Inseln.

Das allseits beliebte Zug um Zug-Erlebnis mit spannenden Entscheidungen und einfachen Regeln kann weitergehen. Zug um Zug Amsterdam steht in einer Linie mit Zug um Zug New York und London. Dieses Mal müsst ihr Kartoffeln, Weizen und andere Produkte zu den Märken der Stadt liefern. Und bleibt nicht mit dem Kohl im Graben stecken.